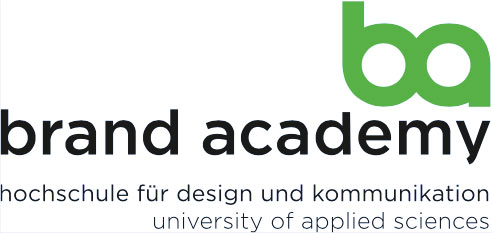 Brand Communication
main focus
Marketing, Kommunikation, Werbung, Advertising
study start
winter (October) or summer (April)
study duration
6 Semesters (180 ECTS)
admission requirements
Higher education entrance qualification, B2-level in English, respectively B1 if the first year is studied in German (which is optional), and interview. See application form for full list.
special features
Tuition fees.
🇬🇧 All lectures taught in English.
German language optional during 1st year
Hinweis:
Fachgruppe meint hier die
Studis Online
-interne Gruppierung, um verwandte Studienfächer leichter finden zu können. Eine Übersicht aller Fachgruppen (FG) und Fachbereiche (FB) ist
hier
zu finden. Sie sind nicht mit den Fachbereichen der jeweiligen Hochschule zu verwechseln!
STUDIENPROFIL
Hinweis:
Studis Online
bietet mit dem Studienprofil Hochschulen die Möglichkeit, ihre Studienfächer gegen ein Entgelt mit ausführlicheren Informationen als den von uns recherchierten Basisinformationen vorzustellen. Mehr Informationen zu Studienprofilen bei
Studis Online
gibt es
hier
.
---
Our new study focus
Brand Communication
launches in October 2017. We've crafted it to be your entry ticket to the world of agencies, startups and brand managing companies.
Throughout your studies, our Project Partners will test your skills and determination time and time again by asking you to solve real-life brand communication problems. Rest assured you will be challenged by some of the best Germany has to offer. Recent national Project Partners of Brand Academy include Henkel, Mercedes-Benz, Beiersdorf, Bosch and Jung v. Matt – just to name a few. German subsidiaries of foreign enterprises, such as BAT, Danone, Publicis and American Express, too, have challenged our students in the past.
To impress such demanding partners, you will have to combine your conceptional and creative talents with a thorough understanding of consumer needs. Only this combination of Logic & Magic creates communications that are relevant to consumer lives. And only relevant communications will boost the brands you are in charge of. To maximize that boost, you will have to use the entire range of contemporary channels.
If you are admitted into Brand Communication, you will definitely be following a fascinating and challenging curriculum. Chances are, you will also be working late, drinking lots of coffee (or energy drinks), and be scared of your next presentation at your Project Partner's HQ – until its over and you've nailed it (again)!
Brands are stories. By the end of your studies you will be an expert storyteller. You will be ready for the advertising world – because you've been part of it since your very first day at Brand Academy.
Content
In the first year of your studies, we will lay a solid basis consisting of the foundations of brand management and brand design, current standards in scientific work, and more. In the remaining two years of the
Brand Communication
curriculum, we will equip you with all you need for a successful and lasting communications career in an advertising agency, startup or brand managing company.
Of course, we will teach you the latest and most useful knowledge in the field of brand communication, but we won't stop there. We will also nurture and challenge your creative and conceptual talents. We will develop you into an opinion leader and help you organize in high-pressure situations. Not least, will show you how to be an effective team player in a truly international environment (such as ours) and how to transfer your intercultural competencies to the world of brands.
Most importantly, though, we will teach you how to apply your skills to real-life problems during a host of practical projects brought to you by our carefully selected Project Partners.
At Brand Academy, theory and practice always go hand in hand.
Career Prospects
The choice is yours!
Brand Communication
opens doors to advertising agencies, startups and brand managing companies alike.
Surely, most of our graduates will be using their degree – and our established network – to enter agencies as Strategic Planners, Media Planners, or Communications Consultants. They will be working long hours alongside other great talent in order to boost the brands of demanding clients. Their many projects will lead them from one product, service or industry to the next and no day will ever be the same. If they are successful, they will earn well and rise through the ranks towards the top of the agency.
Some graduates will switch to the client side after an engrossing agency experience. As Communications Managers, Brand Managers, or Advertising Managers they will be responsible for planning and implementing every facet of brand communication. Others will go for entry level positions with such brand managing companies right after graduation – and be welcomed as highly competitive candidates.
Fees
As a leading state-recognised, privately owned university, Brand Academy is financed exclusively through fees.
Course fees for students from Germany and the EU
650,- Euro per month,
1.090,- Euro one-time matriculation & examination fee.
Fees for students from countries outside the EU
890,- Euro per month,
2.500,- Euro one-time matriculation & examination fee.
Exceptions may be made for students who already have long-term residence permits for the EU.
Admission
Brand Communication
starts for the first time in October 2017. After that, it can be entered each April (= winter semester) or October (= summer semester).
Application Deadlines
Applicants requiring an entry visa for Germany: June 30 / December 15
Applicants NOT requiring an entry visa: September 15 / March 15
To check if you require an entry visa, please click
here
.
Key Admission Requirements
Qualification to enter a German university or university of applied sciences.
Successful interview.
B-2 level proficiency in English, respectively B-1 if the first year is studied in German (optional).
Exceptions may apply. For instance, extensive work experience or previous academic studies in English may be considered sufficient to satify requirement (1) or (3). For a full list of admission requirements and details about each, please refer to the
Application Form
.
If your application documents and the associated qualifications are considered sufficient by our Board of Examiners, you will be invited to an interview, which is usually conducted online. Among other things, you will be assessed based on your personal and social competencies, communications skills, motivation, goals, and your familiarity with the subject of study.
If your application interview is successful you will be admitted to study. You will receive a Letter of Admission after signing the contract and your first payment. The Letter of Admission can be used to apply for a visa, should this be necessary.
Contact & Support
Mr. Marc Morian
Telefon: +49 (0)40 / 380 893 56-28
E-Mail:

BRAND ACADEMY
Hochschule für Design und Kommunikation
University of Applied Sciences
Rainvilleterrasse 4
22765 Hamburg
More Information about our B.A. Brand Communicationcan be found on our website.
---
Hinweis:
Studis Online
bietet mit dem Studienprofil Hochschulen die Möglichkeit, ihre Studienfächer gegen ein Entgelt mit ausführlicheren Informationen als den von uns recherchierten Basisinformationen vorzustellen. Mehr Informationen zu Studienprofilen bei
Studis Online
gibt es
hier
.