International students

Your first steps in Germany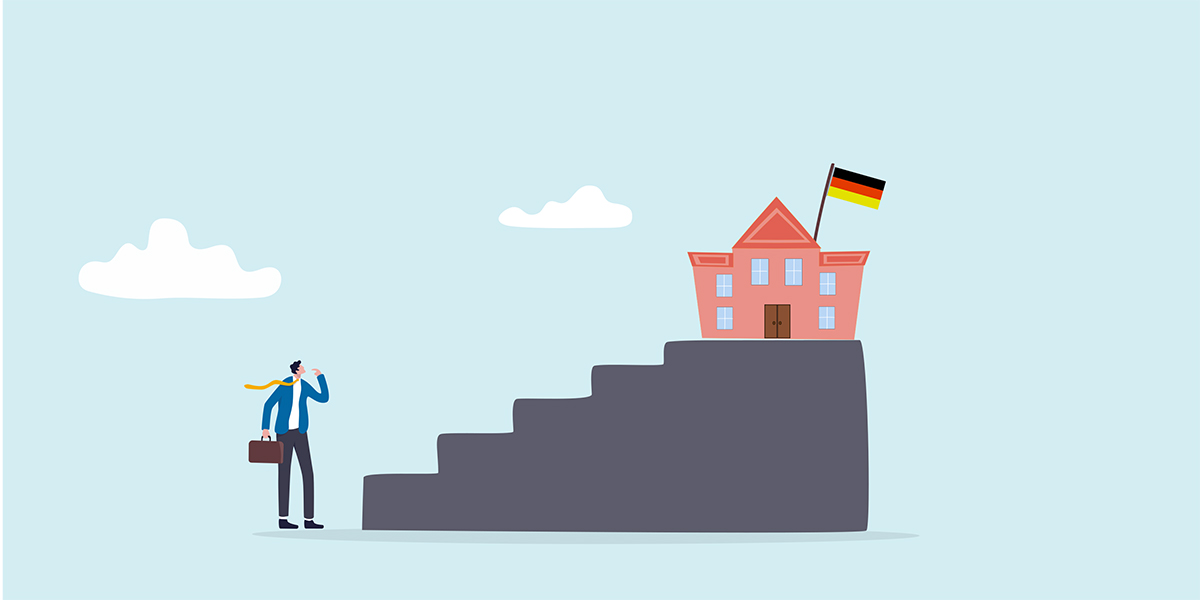 [M] Nuthawut - stock.adobe.com
---
1. Anmeldung (registration)
Each person who arrives in one of the German cities abroad or from somewhere else in Germany should register in the new place of living. There is a special German state organisation Bürgeramt (or Bürgerbüro, Bürgerservice, Kundenzentrum, Servicepunkt, Bürgerladen, Bürgerdienste – depends on the city) which is responsible for the registration. Bürgeramt is authorised to issue a confirmation certificate of the registration. This document you will need for opening a bank account, your final enrolment at the university, a cellphone contract and many other things.
For your registration, you have to make an appointment in one of the registration centres. Normally, there are many requests in each of them, especially in big cities, that's why we recommend making an appointment in advance!
What should you bring with you?
Passport or identity card

Registration form (usually, you could find it on the website of the registration centre)

Confirmation from your Landlord (you receive it after you arrive in your dormitory)

Fee (the cost depends on the federal state)
---
Though there are many places in Germany where you could buy something with cash, you will need your bank account not only for daily life but also to pay your rent, health insurance or semester contribution.
There are two different types of bank accounts:
a) Sparkonto – a special type of bank account where one could keep the money to save them
b) Girokonto – a standard type of bank account used to pay bills and receive pay-checks
Banks with no monthly fee for students:
There are two possible monthly free bank accounts for students. Girokonto is a free account if your monthly income is more than 700 €. Startkonto is a monthly free account for students under 27 years old.
No monthly fee for EU students. 6.90 € for non-EU students. Deutsche Bank offers as well a special blocked account (Sperrkonto). Normally international students need it for application for a visa as a proof of financial reliability.
A co-operative bank, different regional branches which can have different offers. Some have free bank accounts for students, others do not.
This bank is special in Germany because there are different branches of Sparkasse in different German cities, for example, there are Hamburger Sparkasse, Berliner Sparkasse and etc. Sometimes this bank offers monthly free bank accounts for students, but you should read all requirements on the website of the branch of the bank in your city.
Pay attention that all banks change their offers and requirements systematically, that's why it's better to check updates on the website or direct in the office of a bank.
What should you bring with you for opening your bank account?
Application form

Passport or identity card

Proof of income or scholarship

Student card or a proof that you are a student

Your registration certificate
It's better to visit a bank once more time before opening a bank account because the requirements can be different. Sometimes before opening the bank account, you should receive an appointment.
---
Students from EU countries can keep their foreign health insurance if they have been issued a European Health Insurance Card (EHIC). You should find in advance from your health insurance provider what treatment is free for you in Germany. The European Health Insurance Card (EHIC) does not ensure free health services. International students from EU countries can also make German health insurance.
Students from non-EU countries should make German health insurance, as their state providers are generally not accepted. German health insurance is also needed for your full acceptance at the German university.
There are different types of insurance in Germany:
a) state health insurance (Gesetzliche Krankenversicherung, GKV)
b) private health insurance (Private Krankenversicherung, PKV)
Normally, state universities demand state insurance from students.
The largest providers of health insurance in Germany are: AOK, Barmer GEK, TK and DAK.
You should register with one of the health insurance companies. Normally international students could start to do it online on the website before their arrival. When you come to Germany you should give your German address and finish your registration. Then you get a letter with a special health card which is called Gesundheitskarte. The insurance card has a chip to store your data and must be presented the first time you visit a doctor each quarter.
---
German SIM card will be necessary not only for surfing the internet or calling your friends, but also it simplifies many organisational questions.
There are three main Internet providers in Germany which offer SIM cards as well: O2, Telekom, and Vodafone.
Telekom is the most expensive provider. However, Telekom offers a stable and fair internet not only in Germany, but also in other EU countries. Resellers include congstar, ja!mobil and Penny Mobil.
Vodafone has a middle price according to the market.
O2 is the cheapest provider which offers many SIM card options. Aldi Talk, Ortel Mobile and Ay Yildiz are resellers.
There are several ways to buy and register a SIM card:
a) Normally you could find a SIM card in big supermarkets such as Real or Lidl. You could also buy it in big electronic markets such as Saturn or Media market. After buying a SIM card you should verify your personal dates with a video call or go to the Post with your identity card for verification.
b) You could come directly to the local shop of your potential provider, buy a SIM card and register yourself there.