Liberal Arts and Sciences
University College Freiburg (UCF)
University College Freiburg
was founded in 2012 at the University of Freiburg. It serves as a central and interfaculty platform for promoting and administering international, interdisciplinary teaching activities. It complements and supports the faculties' work in this field, serves as a laboratory for innovative approaches to teaching and instructional design and houses high profile projects, notably the Bachelor program in
Liberal Arts and Sciences
.
Bachelor of Arts / Bachelor of Sciences (depending on choice of Major)
October
Application period: June 1st to July 15th
8 Semesters (Total number of Credits: 240)
Registration fee of appr. €150 per semester for all students.
State of Baden-Württemberg tuition fees for non-EU students (€1,500 per semester) and for students seeking a second Bachelor degree (€650 per semester). For more information, please see the
University Student Portal
.
Study abroad opportunities, Double degree program with University College Maastricht, 5 study places each year
Interdisciplinary initiative
Interdisciplinary, English-taught undergraduate program
Information zu Zulassungsverfahren
(ohne Gewähr!)
Die Verfahrensergebnisse im WiSe 2019/20:
Hauptverfahren (05.08.2019)
Grenznote: 2,0
Wartezeit: 4 Semester
---
STUDIENPROFIL
Hinweis:
Studis Online
bietet mit dem Studienprofil Hochschulen die Möglichkeit, ihre Studienfächer gegen ein Entgelt mit ausführlicheren Informationen als den von uns recherchierten Basisinformationen vorzustellen. Mehr Informationen zu Studienprofilen bei
Studis Online
gibt es
hier
.
---
The four-year Bachelor's Degree in
Liberal Arts and Sciences (LAS)
is an English-taught interdisciplinary undergraduate program. It was established in 2012 at the University of Freiburg and is hosted by UCF, an interfaculty center for international, interdisciplinary teaching.
Liberal Arts and Sciences in Freiburg
Liberal Arts and Sciences is a philosophy of Bachelor level education. It reaches across academic fields while also offering discipline-oriented academic training in one particular Major. It encourages students to critically reflect on science and knowledge and to become skilled communicators and creative shapers of their environment. Focusing on the education of the whole person, it creates opportunities for personal development into motivated and responsible human beings.
At UCF, the key to an interdisciplinary, choice-driven education is understanding what (scientific) knowledge is, how it is produced, and how knowledge and society interact. This is reflected in the LAS program's emphasis on the conditions, methods, and roles of science and in two professorships established specifically for the program: Epistemology and Theory of Science and Science and Technology Studies (Prof. V. Lipphardt).
Two colleges, two countries, two degrees
The University College Freiburg (UCF) and University College Maastricht (UCM) Maastricht University/ Netherlands provide a
double degree
option in Liberal Arts and Sciences (LAS). Per academic year each college offers up to five double degree places. The selected participants will spend one year at the partner university.
The LAS program consists of three study areas:
The
Core
(66 ECTS points) constitutes the intellectual identity of LAS at the University of Freiburg: It fosters students' academic and personal development by offering a range of courses on philosophy of science as well as responsibility and leadership. Furthermore, students are intensively trained in general academic skills (Advanced Academic English, researching and presenting study material, effective writing, numerical literacy etc.). In order to put these skills into context and to exemplify the necessity and complexity of interdisciplinary thought and action, the first year of the program focusses on contemporary societal challenges (such as Global Inequality, Public Health, Environmental Issues).
The
Major
(102 ECTS) constitutes the students' training in a specific academic field. LAS It aims to provide sufficient depth to make admission into disciplinary M.A. or M.Sc. programs possible. LAS offers four Majors:
Earth and Environmental Sciences
Life Sciences
Governance
Culture and History
In their
Electives
(72 ECTS), students can take courses outside of their Major, visit courses at other departments of the university, attend language classes, undertake independent projects, and/or use these credits for courses taken during a semester or year abroad.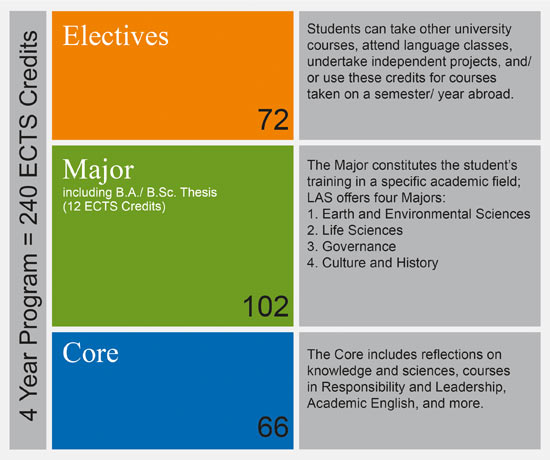 LAS combines interdisciplinarity with scientific rigor, creating space for individual exploration while maintaining a firm academic base. The LAS Course Catalog and official Rules and regulations are available
here
.
The LAS program stands for:
Problem-oriented learning: Real-world problems and their complexity are the starting point of teaching and learning in the LAS program.
Project-based learning: Students often work together in groups or teams and thereby combine knowledge acquisition with social and organizational skills.
Independent enquiry: LAS students learn how to develop questions of their own and how to reach learning goals efficiently.
Research-oriented learning: Especially the Majors are taught with a view to current research problems and horizons.
Shared responsibility: In their different roles, lecturers and students are jointly responsible for teaching and learning success.
Small group learning: Throughout the LAS program, most courses are restricted to a maximum of 20 participants.
Internationality of staff and students including study abroad opportunities
Our target group is students with intellectual curiosity and responsibility, who are looking for breadth and depth in their academic training. The LAS program is selective. The grade- and interview-based selection emphasizes academic achievements and personal motivation.
Every spring, UCF opens its doors for prospective students. Join us at our
Open Days
: Get an in-depth view of LAS at UCF and get to know Freiburg, which is known for its vibrant student scene and its attractive location on the edge of the Black Forest.
For further information please contact:
University College Freiburg (UCF)
Bertoldstraße 17
79085 Freiburg
Tel. +49 761 203-67342

www.ucf.uni-freiburg.de
---
Hinweis:
Studis Online
bietet mit dem Studienprofil Hochschulen die Möglichkeit, ihre Studienfächer gegen ein Entgelt mit ausführlicheren Informationen als den von uns recherchierten Basisinformationen vorzustellen. Mehr Informationen zu Studienprofilen bei
Studis Online
gibt es
hier
.
---
Erfahrungsberichte 💬
Bitte immer daran denken: Erfahrungsberichte sind subjektive Schilderungen – ob die Aussagen für Euch in gleicher Weise zutreffen, solltet Ihr gut prüfen und die Situation berücksichtigen, in der die/der SchreiberIn war. Achtet auch darauf, ob und wann das Studium abgeschlossen wurde – vielleicht hat sich in der Zwischenzeit schon etwas geändert.
von mmkk1122 am 21.05.2019 (2 Fachsemester, Alter 18 bis 20, im Studium)
---
von Malina am 17.07.2016 (4 Fachsemester, Alter 18 bis 20, Studium 2016 abgebrochen)
---